emmanuelle cunt wrote:I still can't believe PRF votes Space Shuttles are crap. Loud as fuck. Start looks like begining of the apocalypse. Flies in space. Whole thing looks like a transformer before the launch and like a meteor on the way back. Yet, it's voted crap. What the hell.
Chap, you're completely crazy. The Saturn V made a much bigger bang, went further, looked cooler on launch, lifted more, and left some awesome monuments in the launch pads, construction areas and the like. Truly incredible, monolithic technology, a near-miraculous feat of engineering that took men to the moon. The shuttle was designed by committee and looks like a toy coach with a couple of dumpy wings glued on.
Plus, I take this 60's or 70's design over anything they will come up with nowdays without even thinking about it. This thing looks massive and cool, like a space craft should.

Now, this?

I don't care if it's more effective, but it has no business in space. It's good for overweight teenage girls, if it's good for anything.
The absence of any close-up shuttle photographs in your adolescent creaming is unconscious admission that the shuttle is ugly, a pudgy blob, an attempt to fold a sausage into a delta shape. The concept ship you posted above looks a better attempt at such a folding. Even better were the X-series of rocket planes, which briefly competed with the ballistic rockets for the US space programme until the need to beat the Soviets made NASA plump for ballistic rockets (the bulk of the shuttle comprises such rockets, and hence is dumped). Read
The Right Stuff
: better to be behind the joystick than spam in the can. (All phallic symbolism intended.)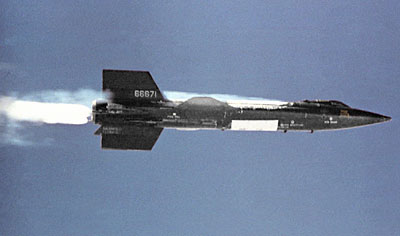 Way cooler. And the pilots actually flew the thing for the whole ride.
Egomaniac that he (perhaps necessarily) is, Rutan's projects is the true heir to the X-series. I read that he's working on an orbital model, again launched from a plane rather than a booster rocket.
Edit: I don't think anyone has brought up Gil-Scott Heron's take yet,
so for balance...