Frank R. wrote:Next year someone should build a raised bed for the garden. It would make it look a whole lot better and wouldn't require a whole lot of money/effort. It would get the plants up off of the ground which would reduce the risk of being trampled, eaten by vermin, and/or pissed on by bums. Also, since the plants would be higher, you wouldn't have to bend over as much (no more achy back!). Raised beds also allow you to plant earlier.
That's a great idea, but it can't be done because that space (which is also the only space that would work on the property) is between two driveways. Part of the challenge is being able to allow door clearance from either side. A raised bed would mean cranky people.
Frank R. wrote:It would also be a good idea to take a pictures on a clear day every three hours to see which parts of the space get the most light. That way you can plant accordingly.
I'll have to give that a try. As for now, the stuff I'm planting has been doing ok, but I'm always up to improve things.
Speaking of "clear days", every time I've been by to take pictures for update purposes it's been night or rainy. That or I'll water them and forget to take pictures altogether. 'Scuze me for the delay!
Feast your eyes on these, the best this garden has been to date:
Basil is out of control, but I'm fine with it. I transplanted as many as I could, but they're growing faster than I can pinch them back. I had to uproot one on Monday just so it wouldn't impede the growth of Mr. Oregano. I plucked and froze the leaves, even if it's not same-day fresh it beats anything off of the Jewel spice rack.
Below is the mini Bell Pepper plant. Look carefully and you'll see some have turned red. Lookit! So many mini Bell Peppers!
Ok, here's a red one: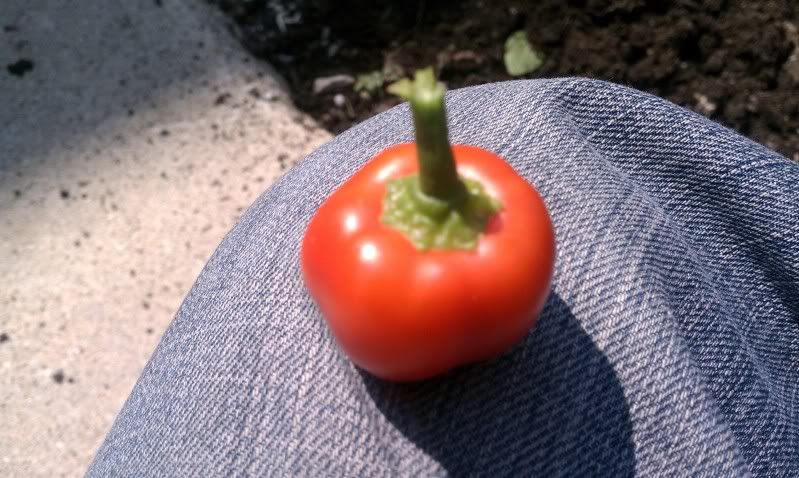 No red jalapeños yet, but they're in excellent shape considering there existed only a branch and change once:
These should stay yellow, I think, so I'm just picking the ones that look like they'll explode if I don't:
In between the basil and the basil lie the Thai Hot Peppers. Most are green. Red means "pick 'em already!", and steve enjoys the flavor most when they're dark purple (somewhere in the middle of green and red), so I'm trying to get as many as I can in that phase. The trick is they're not that shade for long, but also there are a bazillion of them so there's usually a handful prime for purple pickin'.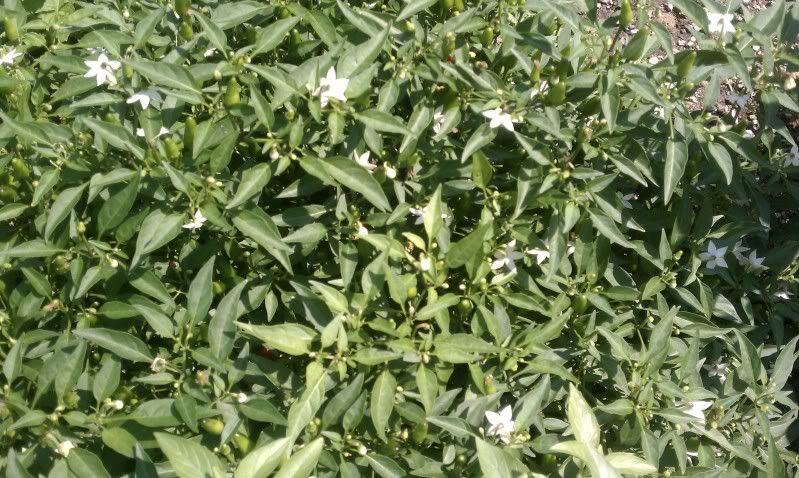 Speaking of peppers, I hope to pickle these again this year, but I'm going to wait another several weeks. It's basically what I do at the last minute to make sure none of the peppers go to waste.
Mint and basil! Look at all that Mint and Basil!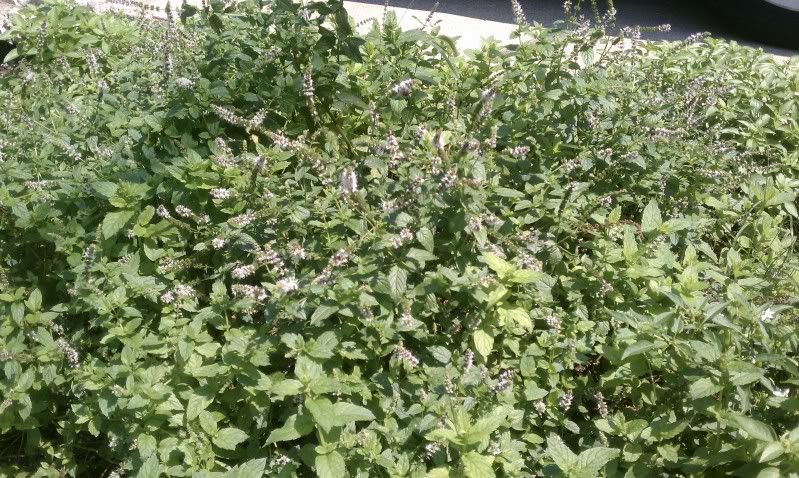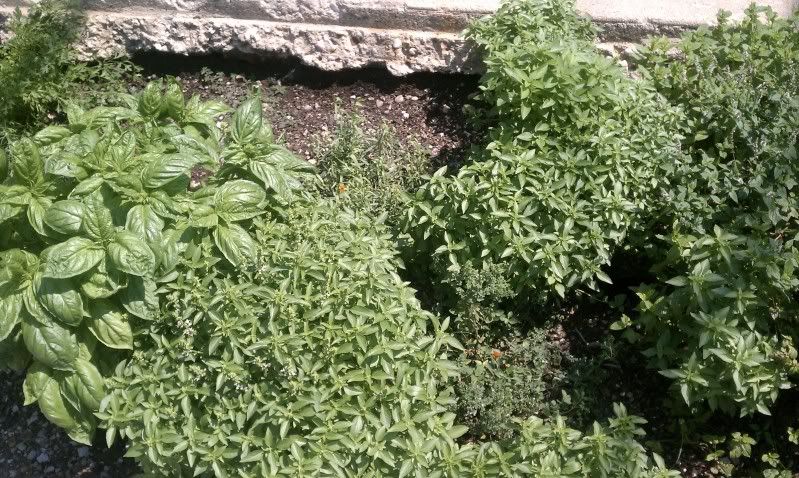 ...also there's tarragon and oregano in there somewhere. They are doing well, just chillin' in the shade of ALL THAT BASIL.
Rosemary and Parsley do look a little droopy, but mainly it's because I took the pictures mid-day. At about 6:00 they'll perk right back up.
Oh here's the oregano:
And also the tarragon. Also note somebody stepped on some of the garden. Fortunately it was on the BASIL.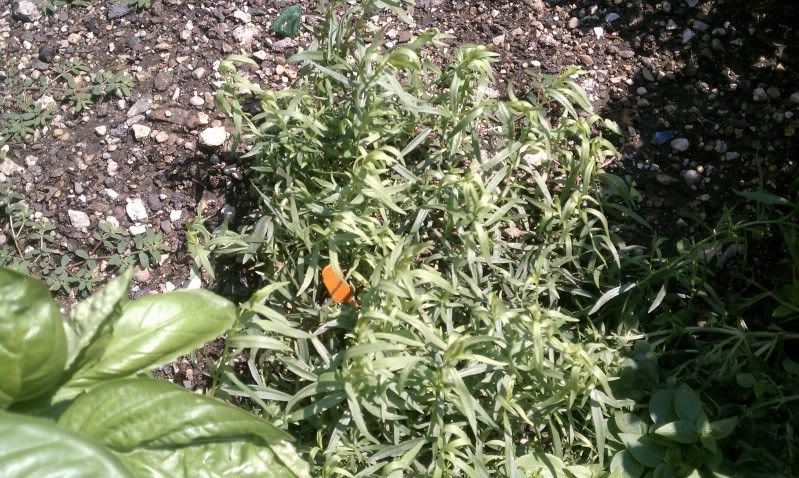 This onion is giving me the horns. Metallist onion ever:
Chili Peppers! One is almost red:
And a quick few pics of what I picked today. Best. Garden. Ever. (here).